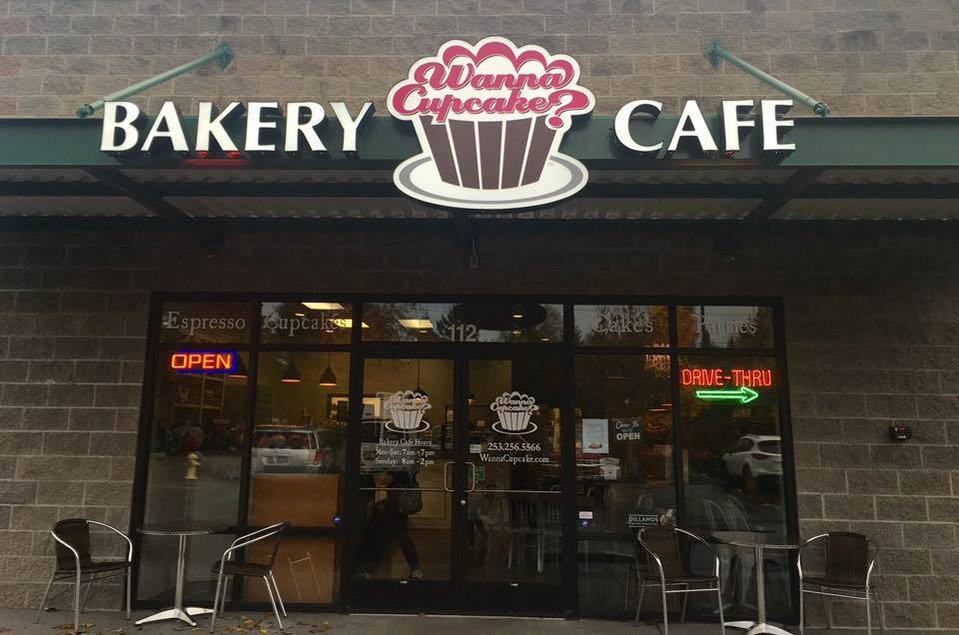 I am so excited for my guest blog post today I am not going to lie it might give you a sweet tooth. I have been a frequent customer for Wanna Cupcake? for a few years. They are amazing. Their cupcakes are delicious but not only that you walk into their shop and it is just beautiful and smells just like cupcakes and coffee which happen to be my two favorite things. So I asked the owner if she wanted to be apart of my blog and she said yes. So here it is your weekly musings of a Bonney Lake makeup artist.
1) Tell me a little bit about you and your business?
Karie & Jim Romano, owners of Wanna Cupcake? started our business from our passion to serve others and to give back to the community. Wanna Cupcake? started back in 2010 at the Puyallup Farmers Market and quickly grew to other local markets and various local coffee shops as a wholesale business. After building a loyal customer base within the community we opened our doors to our own retail storefront in June of 2012. Since then we have grown the business to much more than just cupcakes. We currently employ an amazing team of 16 that all have the same passion and drive for this craft as we do. We now, in addition to the many baked goods we offer have a full espresso bar, drive-thru and seating for 24. We are open Mon-Sat 8am-6pm with plans to grow additional locations in the near future.
2) What makes Wanna Cupcake different?
We put our heart in EVERYTHING we do! We not only take our gourmet cupcakes and specialty cakes seriously, but we are fanatical about customer service. One of our core beliefs is that "Every Customer Leave Happy". We embrace every opportunity we have to serve you and exceed your expectations. For any business to be successful, it needs to deliver both an excellent product through amazing people. We are proud that we have been able to consistently do both.
3) Do you just offer cupcakes?
Not at all…. We also offer custom cakes, cookies, muffins, scones, bagels,cake pops, bars, brownies and more! Our team is always coming up with new ideas and recipes to keep things fun and exciting. All of our bakery items are baked fresh from scratch every day and we use only the best ingredients and our own special recipes.
4) What are some tips you have for couples when deciding on a cake?
During our wedding tastings, we tell our couples that this part should be the most fun and the yummiest part of their wedding planning! Whether it's a traditional tiered cake, a cupcake tower or dessert buffet for their wedding, we always encourage couples to try a few fun flavors that express their personalities and some traditional flavors to please their guests.
5) How far in advance should couples book your services?
For weddings, we currently book up to a year out for summer weddings and typically 6 months out for all other seasons. However, we are able to accommodate most timelines so don't hesitate to give us a call if you ever need something in a hurry. We will do our best to make it happen! For birthday cakes and custom cakes for special occasions, we book from 1-2 weeks in advance depending upon the season. If you are in a hurry and need something special quickly, custom cupcakes can always be pre-ordered at least a day in advance. But don't forget that you can just walk in and choose from over 13 different cupcake flavors every day from a rotating menu that changes daily and monthly.
Doesn't this blog post make you want to check out Wanna Cupcake? I know I am now craving one hahaha. Actually to be honest I could eat one every day so it isn't really a craving more like an obsession that I have to stop myself from getting. I can't wait for next weeks blog post. Until then have a great week and I hope you enjoy a cupcake.
Also be sure to give Wanna Cupcake? a follow.